On Tuesday, the government of Gujarat approved a Memorandum of Understanding between the Indian conglomerate Vedanta and the Taiwanese electronics manufacturing giant Foxconn to establish a semiconductor and display manufacturing plant in the state.
Vijay Nehra, secretary of Gujarat's department of science & technology, who signed the MoU on the state's behalf, proclaimed it to be the largest corporate investment in India's independent history.
How the Vedanta Semiconductor Manufacturing Unit will bring the change?
Following the signing of the MoU in the presence of Union Minister for Railways, Communications, Electronics, & Information Technology, Ashwini Vaishnaw, Chief Minister Bhupendra Patel announced that Vedanta – Foxconn Group would invest Rs 1,54,000 crore to set up the facility in Gujarat, creating one lakh job opportunities. 
In a tweet, Prime Minister Narendra Modi hailed the MoU as a significant development in realizing India's goal of becoming a global leader in chip manufacturing.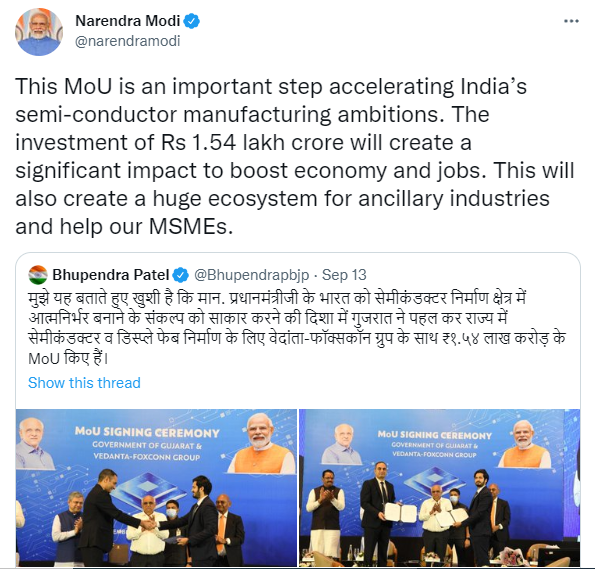 "This MoU is an important step in accelerating India's semi-conductor manufacturing ambitions. The investment of Rs 1.54 lakh crore will create a significant impact to boost economy and jobs. This will also create a huge ecosystem for ancillary industries and help our MSMEs," tweeted Modi.
Semiconductor chips, used in mobile phones, cars, as well as other electronic appliances, are not manufactured in India presently.
"Eight percent of all the chips used in the world are manufactured in Taiwan, followed by China and Japan. This upcoming facility will mark the beginning of chip manufacturing in India. This is also strategically important for India because it will reduce our dependence on other countries," Nehra told PTI.
"At present, the joint venture company is evaluating various sites in Gujarat to set up the plant and will finalize the location over the next couple of weeks", Nehra continued.
"Under the PM's leadership, we created such an ecosystem which has created 25 lakh jobs in the electronics sector alone," Vaishnaw said. 
"Now the PM has given a target of taking the number from 25 lakh to one crore. To do that, we are working on taking electronics production from the present USD 80 billion to USD 300 billion, which roughly comes to Rs 25,00,000 crore," added Vaishnaw.