Honourable Chief Minister of Rajasthan, Shri. Ashok Gehlot launched Jio True 5G services in Jaipur, Jodhpur and Udaipur at an event at State Data Centre, Jaipur. In the next couple of months, Jio True 5G services will be available in Kota, Ajmer and Bikaner as well. By the end of 2023, every town, taluka and tehsil of Rajasthan will have Jio True 5G coverage.
Shri. Shanti Kumar Dhariwal, Urban Development Minister, Shri. Mahesh Joshi PHED Minister, and Shri. Pratap Singh Khachariyawas Food and Civil Supplies Minister were also present on the occasion.
Starting today, the technological advantages of high-speed, low-latency, stand-alone True 5G services shall be made available to the people and businesses of these cities, opening new growth opportunities in the areas of tourism, manufacturing, SMEs, e-governance, education, healthcare, agriculture, automation, artificial intelligence, gaming, and IT.
The transformational benefits of 5G and the application of this immersive technology in the field of healthcare, education and other key sectors of importance for India were demonstrated at the launch event. A glimpse of the generational advancement that will be seen in these areas were showcased through the Jio Community Clinic medical kit, and the revolutionary AR-VR device, Jio Glass.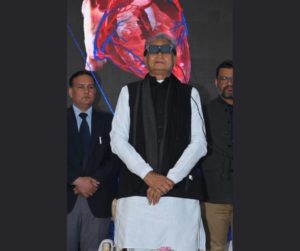 On the occasion, Honourable Chief Minister of Rajasthan Shri. Ashok Gehlot said, "I congratulate the people of Rajasthan, particularly in Jaipur, Jodhpur and Udaipur on the launch of 5G services.
Jio has brought a quality improvement in e-services & 5G will bring a new revolution in the direction. The dream of good governance will also come true with 5G."
The three cities of Jaipur, Jodhpur and Udaipur follow the launch at the spiritual town of Nathdwara where Jio Chairman Shri. Akash Ambani launched Jio True 5G services and WiFi service powered by Jio True 5G, and dedicated it to Lord Shrinath ji on the auspicious occasion of Diwali.
Starting January 7, 2023, Jio users in Jaipur, Jodhpur and Udaipur will be invited to the Jio Welcome Offer and experience Unlimited Data at up to 1 Gbps+ speeds, at no additional cost.
Commenting at the launch, Jio Spokesperson said "We are thrilled to commence Jio True 5G services in Jaipur, Jodhpur and Udaipur. Soon, the True 5G network will expand rapidly across the state.
Jio is the operator of choice in Rajasthan. Currently, Jio is the only 5G network in the state and this launch is a dedication to the love and support showered by the people of Rajasthan.
Jio engineers are working round the clock to deliver True-5G to every person in Rajasthan because of the transformational power this technology can deliver.
With True 5G, the common man as well as the youth, businessmen, IT and healthcare professionals, and sectors like agriculture, education, SMB & manufacturing can benefit further with new opportunities and additional employment.
We are grateful to the hon'ble Chief Minister and Rajasthan government for extending their support in digitizing Rajasthan and taking it forward."