Satya Nadella, CEO & chairman of Microsoft, stated on Wednesday that the business is making "major investments" in India and is now developing global products there.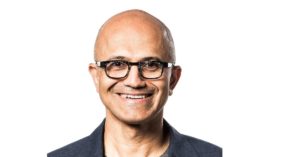 "Outside of the United States, our development center is the largest. We have spent a lot of money onfour massive data centers…," Nadella told ET. 
Nadella, who was honored with the Padma Bhushan in October, has been a vocal proponent of the Made-in-India movement, noting that while the company previously manufactured goods overseas and exported them to India, that practice has since changed and that it now manufactures its full line of global products in India. 
Nadella, praising India's technical advancement, noted that it is not just startup unicorns but also small businesses, public sector firms, and huge multinationals that are using digital technology in India to generate value for their customers and clients. 
He also spoke highly of Aadhaar as well as the United Payments Interface, two examples of India's digital public goods (UPI). 
The Next Step in AI Nadella is widely regarded as the driving force behind Microsoft's transformation into a cloud and mobile powerhouse, and he recently predicted that AI would be "the next major wave" in the industry. ChatGPT, a platform funded by Microsoft's OpenAI, would be connected with multiple Microsoft products, including Bing, he said.