Matrix presents Deep Learning-based Weighbridge Solution it captures images that act as evidence and digital records of Weighment Transactions. Matrix Weighbridge integration can be configured to serve as a single solution for multiple locations or it can function as a distinct solution for multiple locations. The solution captures visual Snapshots(Driver, Truck; License Plate; Dumping Bed; Weight scale) of Weighment transactions at Entry And Exit points.
WEIGHBRIDGE INTEGRATION SOFTWARE
Loading of vehicles is always a tough task for manufacturing units, especially, when the goods cannot be packed in boxes and must be directly loaded in the truck. Often there are instances when truck drivers pilferage the goods en route to the destination. Moreover, customers often claim that they have received goods in lesser quantity than what is claimed by the supplier. These problems lead to disputes between buyers and suppliers, and result in deteriorated business relations, affecting future revenue.
Such manufacturing organizations need a Weighbridge Monitoring System that can provide visual evidence of the entire loading process, and act as proof for the supplier, eliminating any scope of discrepancy. Matrix SATATYA SAMAS is perfectly suited for such an application. Its ability to integrate with Weighbridge Software at the database level provides visual evidence of the entire process, putting an end to all disputes.
Key Features
⦁ Single Solution for Weighment and Video Surveillance
⦁ Avoid dependency one Weighbridge terminal brand, API, Database, RS232 string format
⦁ Evidence of Vehicle, Driver, Material and Surrounding conditions
⦁ Digital Records of License Plate and Weighment Transaction
⦁ Direct data Import/ Export to SAP/ERP – Optimization and Automation to daily operations
⦁ Fleet and Driver Authorization – Access Control of unwanted/ trespassers/ duplication
⦁ Digital and Evidence-based Transaction Receipts – Proof to second-tier vendors
How does Matrix Weighbridge Integration function?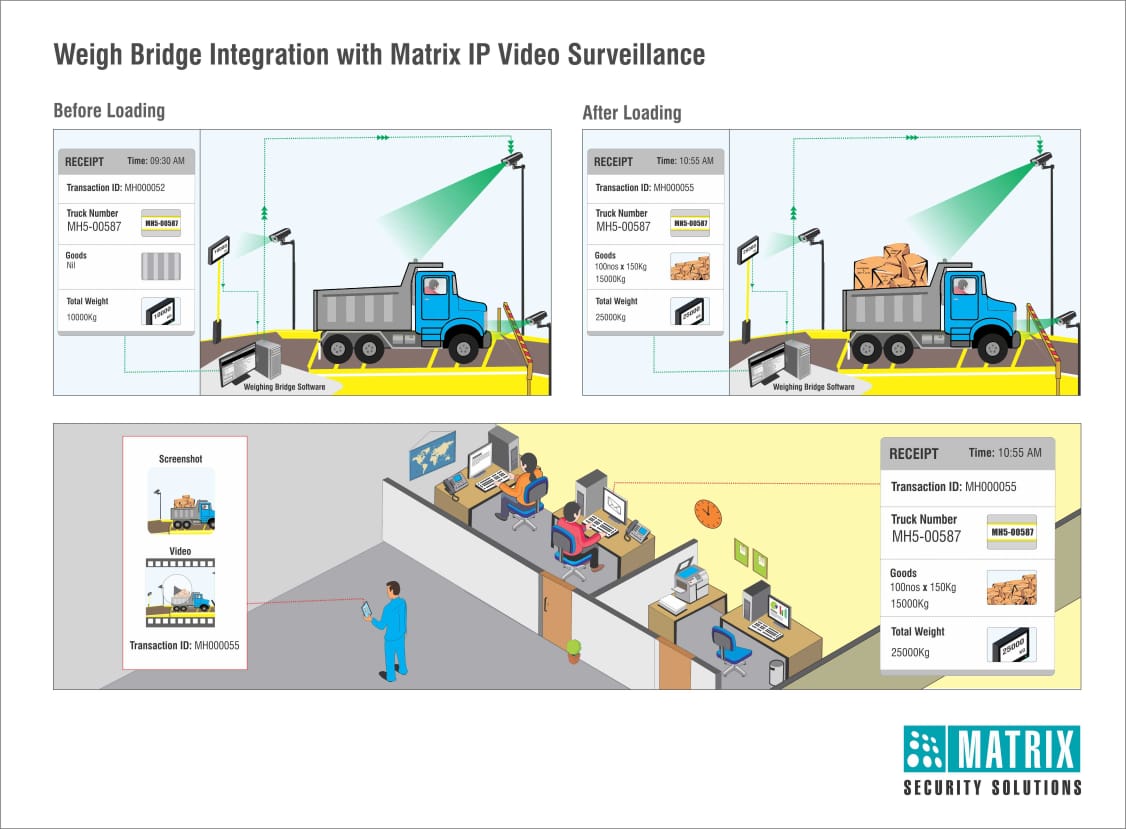 Also read: Matrix presented its Enterprise Grade Solutions covering Security and Telecom at Matrix Partner Connect, Lucknow