Leading global payroll software provider Ramco Systems bagged 3 major awards at the HR Vendors of the Year Awards 2022, held in Singapore and Malaysia. Ramco beat global vendors to win 2 Gold and 1 Silver award under the Best Payroll Software and Best Payroll Outsourcing categories.
Organized by Human Resources magazine and adjudicated by industry leaders, the HR Vendors of the Year Awards are one of Asia's biggest events dedicated to HR solution providers.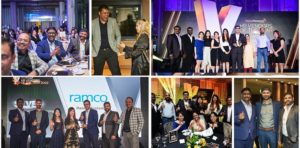 Acknowledging the award, Rohit Mathur, Head – of Ramco Global Payroll Solution, Ramco Systems, said, "We are honored to have won the eminent HR Vendors of the Year Awards in this region. I dedicate these laurels to our customers, partners, and associates, who have reposed their trust in us and have together believed in our vision of a touchless payroll experience. This win is a testament to our dominance in the APAC market, our robust client portfolio, and our dedication to delivering an automated, simplified, streamlined, next-gen payroll experience."
"Over the past year, we have launched a multitude of innovative features which enhance the value our payroll solution provides to our clients. Our focus on leveraging AI, and ML to address payroll challenges has been bringing value to our clients and enabling them to embrace the world of digital payroll" added Mathur.
The awards culminate a triumphant year for Ramco winning several accolades, including 'The Global Payroll Software Supplier of the Year award from the Global Payroll Association; 'Elite Innovation Provider' at the HKIHRM HR Excellence Awards 2021/2022; as well as being positioned as a Leader in Everest Group's Multi-Country Payroll (MCP) Solutions PEAK Matrix® Assessment 2022 for APAC.