Customers expect to connect with you quickly and effortlessly to get their queries solved. So, IVR enables them to connect with customer support quickly. Usually, during IVR communication, customers come across too many complex IVR menus that deteriorate the customer experience and frustrate them. Thus, NovelVox takes a step ahead to transform frustrating conventional IVR prompts into interactive visual journeys for customers and launches Visual IVR.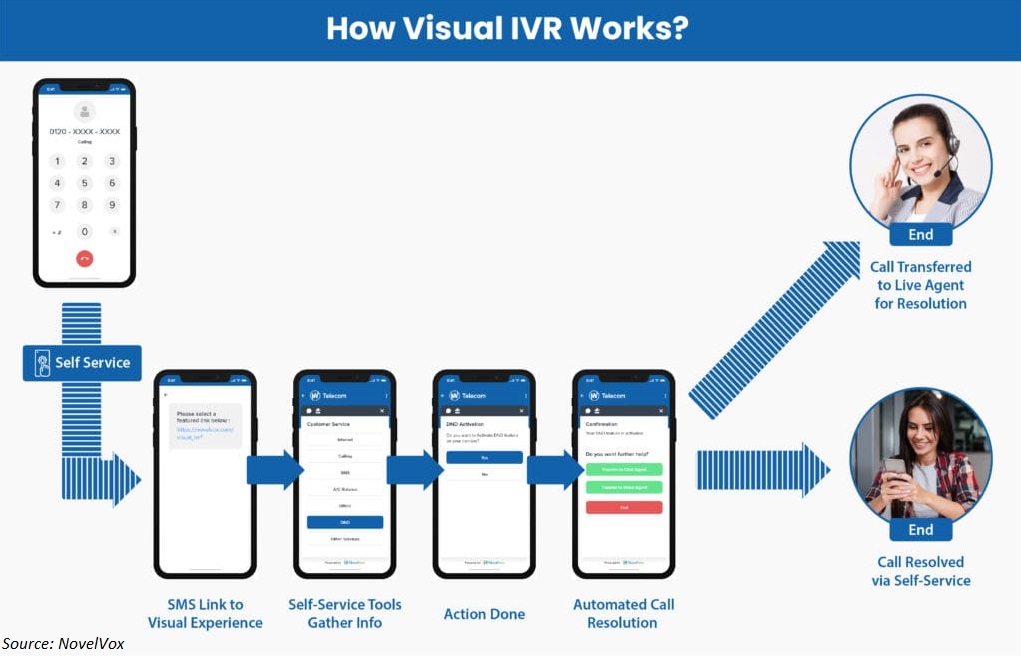 NovelVox's Visual IVR offers a visually-appealing self-service experience and clear visibility of options for more accurate responses. Seamless escalation to a live agent for a chat as well as voice assistance ensures no customer query remains unresolved.
With visual IVR, customers can share information in more than one way – alphanumeric data, troubleshooting images, web links, visual forms, and more to drastically reduce the need for call transfers to a live agent. Less call transfers mean lesser interactions in the call queues and better agent & customer experience.
Recurring queries do not require live agent assistance. Here, Visual IVR automates such interactions by offering customers a digital-driven visual IVR service, navigating them to the desired solution through a more engaging, self-serve-driven digital menu.
NovelVox CEO, Amit Gandhi, quoted, "As per the latest CX trends, I came to a conclusion that enhanced, self-service, effortless, and quick interaction can keep your customers happy and satisfied. With this intent, we launch intuitive Visual IVR that helps contact centers to transform their time-consuming voice IVR prompts into interactive visual journeys for customers. Visual IVR offers digital menus, alphanumeric data, troubleshooting images, web links, visual forms, and more that will contribute toward quick case resolution. Moreover, Visual IVR holistically improves your contact center by improving agents productivity and cutting operational costs."