After the release of the Pixel 7 series earlier this year, Google is launching its first foldable smartphone. As of 2023, the Pixel tablet and the next foldable gadget are expected to debut. Google's foldable phone is expected to cost USD 1,799, or around Rs 1,45, 697.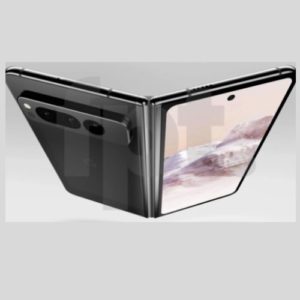 Pixel Fold, Google's rumored next smartphone, will reportedly debut in May at the company's annual developer conference I/O. 
The Pixel Fold is most likely going to be sold in Chalk & Obsidian black color. Several sources have also claimed that the gadget will have the same speed and camera quality as Google's current Pixel flagships. 
Also, unlike the Pixel 7 Series, the cameras on the Pixel Fold might not cover the device's corners. Two front-facing cameras, each rated at 9.5 megapixels, will be included in the foldable gadget. Although one camera will be displayed in the hole punched out of the outer screen, a second one may be located on the top right side of the inner screen's bezel. The device will have a triple-camera module installed on its rear-facing camera strip. Possible inclusion of USB Type-C connector. 
It will include a pair of speakers, one at the top & one at the bottom. There was a rumor circulating that the inside of the Pixel Fold would be a "full screen," and that the device's camera would be hidden in an ultra-micro-hole on its frame. 
Google introduced the Pixel 7 & Pixel 7 Pro in October of this year. Tensor G2 chipsets are at the heart of the newest crop of mobile devices. The Pixel Watch & Pixel Tablet were also introduced alongside the flagship smartphones. Improved cameras and cutting-edge privacy safeguards are just two of the new features included with Google's Pixel 7 Series.