Great people managers deliver great results, create learners for life at the workplace, and reward of being resilient are some of the most interesting highlights of the recently held For All Summit, hosted by Great Place To Work® India in the economic city of Mumbai. Both speakers and attendees enjoyed 15+ packed sessions revolving around the theme: 
Agility, Innovation & Maximized Human Potential
.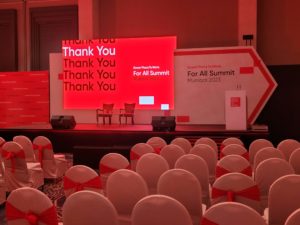 While the majority of the sessions received positive responses from the audience, a few segments with speakers like Sudhanshu Mani, Arunima Sinha, Ravi Venkatesan, and Kris Gopalakrishnan specifically piqued the audience's interest. Their respective speeches, based on their experiences, left the audience with a unique perspective that can assist attendees in making decisions or even helping others in need.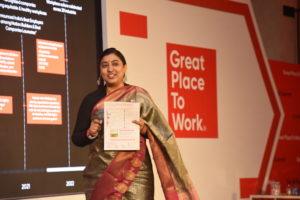 "The For All Summit 2023 exceeded our expectations this year. The event has left all of us with a unique perspective that will help us, as industry leaders, create an agile, innovative, and healthy culture for our employees. Mr. Sudhanshu Mani has put it aptly that there is a need of purpose that leaders of today have to instill in their employees and innovation simply becomes a byproduct. Similarly, Mrs. Arunima Sinha's story of achieving the impossible target has left us speechless, inspiring many to focus on achieving the most difficult target," said Yeshasvini Ramaswamy, Serial Entrepreneur & CEO, Great Place To Work, India. 

She further said, "she really enjoyed the fireside chat with Mr. Krish Gopakakrishnan, and conversation around how it seems tough to believe now but Infosys once also was a startup once! I concur with Mr. Gopakakrishnan that the future is all about entrepreneurship and startups and that there is a large talent pool of great leaders out there." 

"Being said, today's employee wants to be associated with a firm that has a social purpose. Companies understand this, and therefore, they are bringing ESG to the core of their business. In the long run, it is beneficial for the companies itself as it assists them in achieving their sustainable goals while creating a better world." Ramaswamy added. 

Data shows that the employee sentiments over the last few years have moved north dramatically, i.e., 87% of employees in 2022 had a positive response, compared to 79% in 2016 that they feel good about the way they are contributing to society.
The conversations during the day-long summit revolved around topics like AIM in India – A Case Study on the Vande Bharat Express, Becoming ESG-Conscious: How do you make sustainability stick, How do Unicorns leverage Disruptive Innovation, Building a human-led, data-powered culture, Winning the War for Talent, and Science behind people management. 
It is worth mentioning that the 'For All Community India' mobile app was also launched during the Summit. The app gives an insight into the best people practices across industries to enrich the workplace culture journey, access to company members' research papers, case studies, and blogs from the leaders of the Best Workplaces
™
 Global. The app also allow users to engage in meaningful discussions on our discussion forums and much more!