In the beginning, Nokia dominated the mobile market. However, as time changed the Nokia fell behind. This is the reason people don't see many Nokia gadgets nowadays. But slowly, Nokia is marking its presence in the mobile handset market. Nokia 2780 Flip is a classic example of the advancement of technology, cool design, and functionality in our times.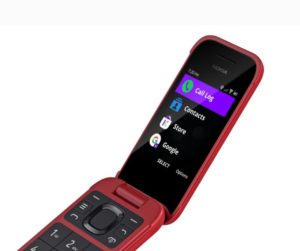 Nokia 2780 Flip
Nokia 2780 Flip is a feature phone that is popular in the segment. The mobile phone is currently available in the USA at $89.90 (approximately INR 7500). This feature phone could be seen available for purchase in the Indian market as well at the estimated price of INR 7500. The main attraction of this feature phone is the dual screen and amazingly long battery life.
The functional flip design lets users check caller ID and other notifications on the outer screen and flip the phone to disconnect calls. Isn't it cool?
Let's check some of the cool specifications of the feature phone by Nokia:
The phone comes in two color variants; red and blue
The primary screen size is 2.7 inches and the secondary is 1.77 inches. The screen resolution is 320 x 240 QVGA
512 MB of internal storage with 4 GB of RAM. The phone supports MicroSD cards up to 32 GB
Single rear camera of 5 megapixels that includes a flashlight
A strong battery (removable): 1450 mAh
The company claims a standby time of 19 days from a single charge which could make this feature phone people's favorite.
Given the features of the Nokia 2780 Flip and the price, this phone could disrupt the market in the coming days. But RMD global has not made its launch date in India public yet. If you also looking to buy a feature phone under 7000 Rs. then this could be the perfect phone for you. However, we will have to wait for the launch to grab this feature phone from Nokia. In the meantime, you can check our other posts for attractive smartphones.
All images – Nokia.com